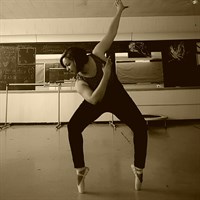 Kimberley Stewart
Owner- Arabesque Dance Academy
Miss Kim began dancing at the age of six under the instruction of Mary Kamp at the Academy of Dance in Cincinnati, Ohio. Kimberley remained a student of the Academy of Dance throughout elementary and high school. During that time, she participated in numerous local and state dance/talent competitions and she was also a member of the Roger Bacon High School Marching band flag corp. Upon graduation, Kimberley moved to Columbus, Ohio to attend The Ohio State University. While at OSU, she was a member of the 3D Urban Dance Team and often performed in productions sponsored by the OSU Dance Department. In 2004, Kimberley graduated from The Ohio State University with a double major in Social Work and Dance Performance.
Kimberley went on to start a dance program at West Toledo YMCA, where she served as the lead instructor. Under her instruction the program grew from a5 student Pre-school movement class once per week, to a comprehensive dance and cheer program which served over 80 children. Kimberley also founded and piloted "Reforming Arts", a performing arts and entrepreneurship program for inmates confined to the Toledo Correctional Institution. During this time, she instituted the first inmate performance step team in an Ohio Department of Rehabilitation and Corrections Institution.  Her work at both the YMCA in Toledo as well as Toledo Correctional Institution awarded her the President Obama's Council on Fitness and Nutrition 2013 Community Leadership Award. The President's Council on Fitness, Sports & Nutrition (PCFSN) has selected Kimberley Stewart to receive a 2013 PCFSN Community Leadership Award. The award is given annually to individuals or organizations who improve the lives of others within their community by providing or enhancing opportunities to engage in sports, physical activities, fitness or nutrition-related programs. "Kimberley has worked tirelessly to promote the importance of physical activity and/or good nutrition throughout the community," says Shellie Pfohl, executive director of the President's Council on Fitness, Sports & Nutrition. "Because of Kimberley's efforts and contributions, countless individuals can benefit from a healthier ,more active lifestyle. Together we are all working to make our nation a healthier one." This year, the President's Council presented the Community Leadership Award to 34 recipients across the country for making sports, physical activity, fitness, and nutrition-related programs available in their communities.
Miss Kim is an American Ballet Theatre Certified Instructor.
Kimberley has danced for over 25 years and continues to train and take master classes from some of the most renowned performers in the country.