What if there was a way to burn a lot of calories, trim your body, and build up muscle without having to run on a treadmill for hours or do a million crunches? There is! All you have to do is learn a few ballet moves.
Performing ballet moves as part of your workout may sound fun and exciting, but not everyone knows what to do or where to start. Luckily, we are here to help. The following are several ballet moves that are extremely easy to incorporate into almost any workout routine.
Pliés in First and Second Position – Balance, Core Strengthening, Leg Workout
To perform pliés in first do the following:
Place your feet together then turn them out slightly – so they look like a V
Keeping your heels on the ground at all times, slowly start to bend your knees and lower your body down
Straighten your knees once you have bent them as far as you can go
Repeat this several times
To perform pliés in second position, you will do the same thing only instead of your feet being in a V, you will move one foot out to the side.
Seaweed
Don't let the name of this ballet move fool you, this can help you build flexibility, strengthen the body, and stretch out your spine.
Seaweed is performed by:
Lay on the floor with your legs straight out
Bend your knees a little and lift your feet off the floor – keep your back on the ground
Slowly lift your upper back off the ground and curl inwards almost like a hug – repeat this several times
When finished, press your legs so they are straight and use your hands to hold the back of your legs, stretch as far as you can and then return to lying on the floor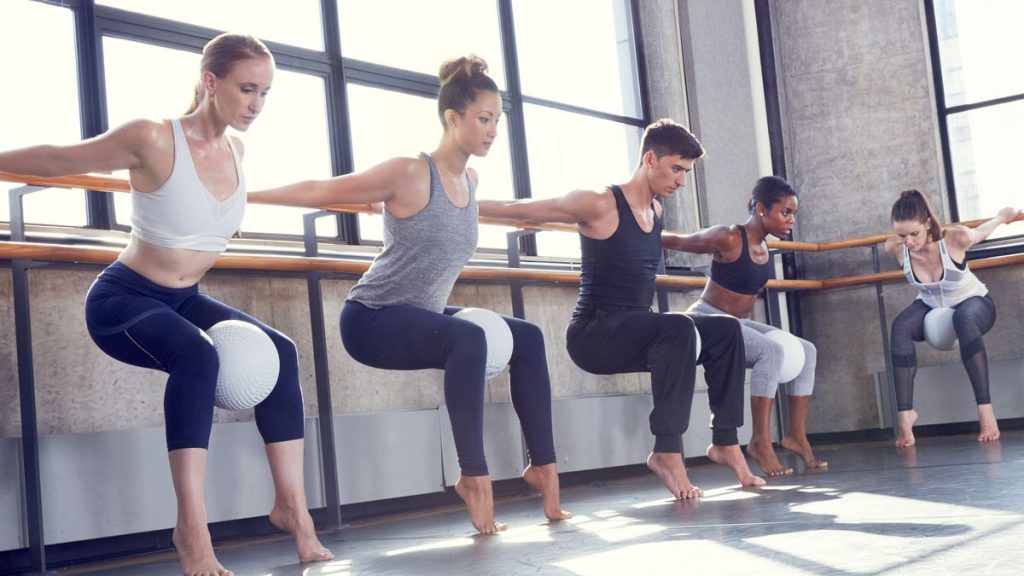 Other Popular Ballet Moves to Use
Almost any movement inspired by ballet would be great to incorporate into your workout routine. Some of the more popular movements that people love adding to their workout routines include:
Dégagés
Relevés
Sissone sides
Arabesques
Floor attitude lifts
Want to Find a Creative Way to Do These Ballet Moves? Sign Up for a Ballet Class
While you could always perform these ballet moves in your living room, backyard, or at the gym, you might want to consider signing up for an adult ballet class. Instead of performing each of these ballet moves individually, you will take to the dance floor and put these dance moves together to form a challenging combination that has you working your entire body.